Designing The Creative Strategy
I often have these moments of anxiety and unfocus, and I notice that many creatives have had this lately. It's everywhere on the Internet, like blog posts, social media posts, podcasts, etc. I decided to understand the problem and find a way to focus and calm down.
Smart people say that we need to focus only on one thing. It sounds good in theory, but it's hard to implement this in everyday creative life.
Think about it in detail. For example, you are an illustrator, and obviously, all you need is to focus on drawing illustrations. However, somehow you need to make a living of it.
So it would be best if you had a portfolio that you could show to your potential clients, and the best way to do it nowadays is to put it online somehow. From this point, we have options like putting out your work on Behance, Dribbble, similar online platforms.
You can create an Instagram account or even a Facebook page to upload your artwork there and build an audience. However, you don't know how rules on all these 3rd party platforms will be changing, and probably you'll want to create your own personal website, which will not go anywhere unless you'll forget to pay for a hosting and domain name.
In this case, you'll need to take on designing and building the website than making it visible within millions of other illustrators' websites out there. Meaning you need to start blogging and do other types of marketing to stand out from others and so on.
So actually, that's a lot of stuff already, and you're getting distracted with everything, but not the main thing you actually want to do, drawing. How can we actually resolve this issue?
Check this video out first. Probably, you'll find yourself there if you have been distracted a lot lately.
The best way to figure out where to focus is to start from the background—basically, skills you acquired, an experience you have, and things you love to do. I tried writing to get out of the system stuff I have and clarify fundamental issues.
The problem with this approach is that you get all your thoughts on paper, but they aren't really organized. Basically, it's a just flow of random thoughts. Well, sometimes structured, but still, they are on a paper with hundreds of other thoughts and ideas. So it's hard to draw a sharp picture from it.
I tried different project management software and was thinking that the main issue is there.
I used Trello for a couple of years, and it helped me a lot with the organization of everything on one board and using separate boards for projects. Before that, I used Wunderlist, tried ToDoist, Clear, and other similar ToDo Lists software.
They all have benefits and useful features, but often it's hard to apply one of them completely in my workflow.
I've chosen Trello for its flexibility, but still, it lacks some functions that could solve my issues with it. However, I'm grateful that I have it, and it's free and covers a lot already. From that point, I continued to search for answers in other places.
Since I like building systems, I decided to draw a mind-map where on the very first level will be areas I lately involved in, then on the next level more concrete stuff in each field, then more details, and so on.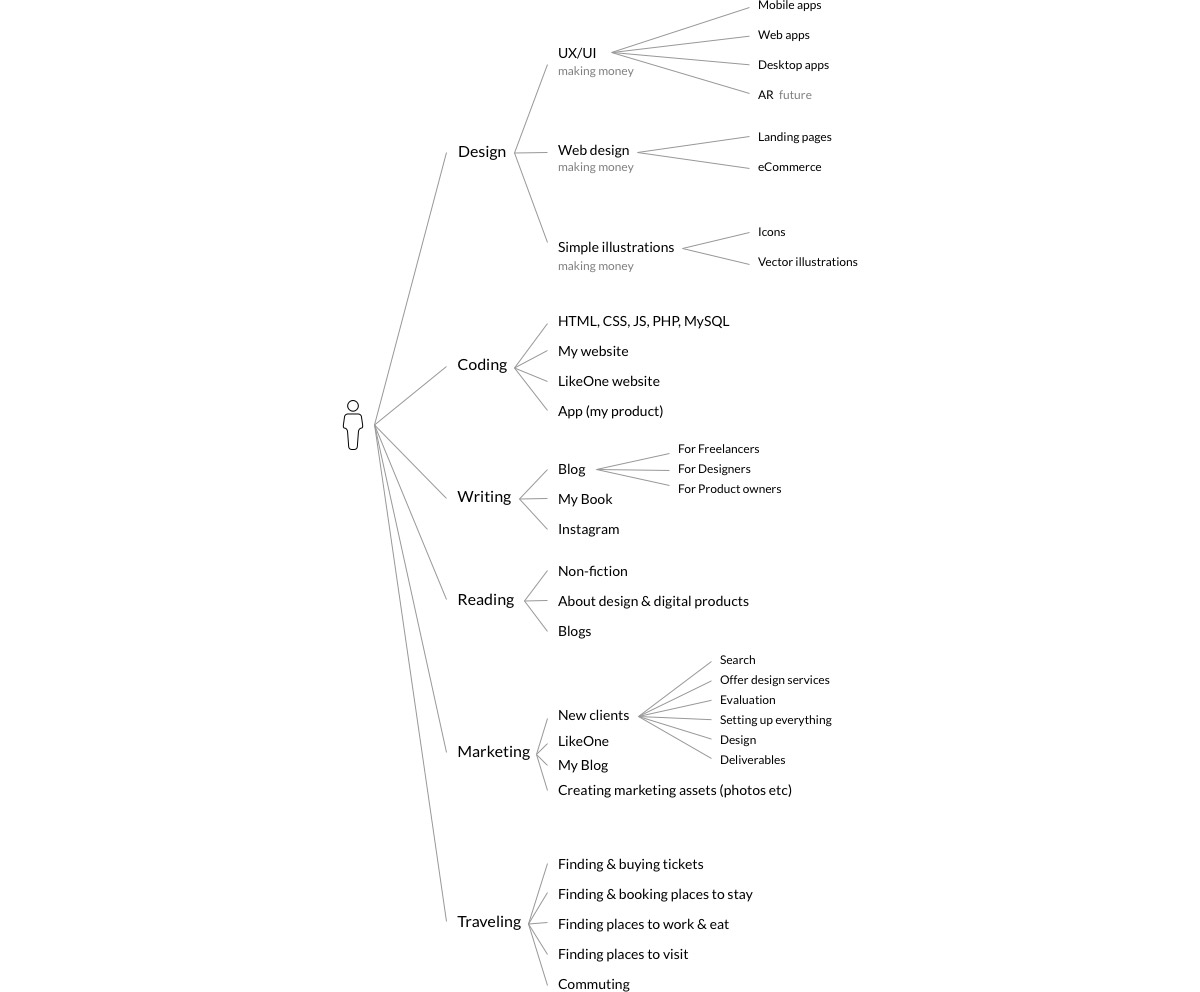 This is the raw version of the mind-map that built for me to understand what I'm doing at the moment. I think it's a good start to grow it more and see where it leads me. So that will clarify the picture more.
While I was drawing it, I had an idea that I actually partially read somewhere. So to not feel overwhelmed with everything, we need to focus on one thing at a time, really, or at least on a couple of things but plan to do these things in different chunks of time.
People make year resolutions, but we write them down, forget about everything, reacting throughout the year to things that are not related, and then find this piece of paper at the end of the year which says that you did nothing that you wanted to do. This is kinds of things lead to anxiety, depressions, and similar stuff.
I suggest changing plans for the year on the month's plans and aiming to accomplish smaller things in a smaller chunk of time.
As I mentioned before, with the example about the illustrator, it's impossible to do one thing and be successful. This approach with doing only a few key things within a month and switching to others for the next month should change the game. And this is what I'm going to do.
While I was writing this, it actually reminded me of what I've read on the website of Derek Sivers about his approach to learning. If I'm not mistaken, he told me that he's a slow learner and focusing on learning one thing for several months and then switching to the next one. I think it's smart, and it proves that my idea of splitting things I do into different parts of the year could work.
I already have plans for August and what should be done at the end of it. I hope it will be a less distracted and productive month. We'll see.
To be continued...